Fonts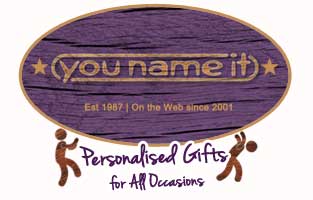 Help with choosing a font
1. Times Italic. Formal but a good all-rounder.
ABCDEFGHIJKLMNOPQRSTUVWXYZ
abcdefghijklmnopqrstuvwxyz
2. Times Bold. Again formal and works on all and does look good if you want to use ALL CAPITALS.
ABCDEFGHIJKLMNOPQRSTUVWXYZ
abcdefghijklmnopqrstuvwxyz
3. Jokerman This font again works well with just a name as apposed to a sentence. Lines of text in this font on smaller items look "cluttered".

.

4. Lucida Calligraphy: Our most popular font, works well on everything. The only odd thing is the apostrophe next to an l

the can get attached to some letters.
The 0 (zero) is the same as the o. 7lb - 10oz would look like

This can be improved by putting a space in:
. One other is oddity is

. Looks a bit like goth!
Text engraved in All capitals can look weird, THE QUICK BROWN FOX.
Capital Q does look like a 2 and numbers are quite small compared to text.
Some pictures on our web site and samples at our outlets have been "spaced" This is mainly on the Two Tone Flip and De Luxe boxes. IE:
.This spacing is done as standard on these two products.

5. Old English.
Some letters can look odd.

, Lower case v looks like a 'b'

Text that is in upper case sometimes looks complicated:

Summary, it looks great with some names and messages, does not look too good with a lot of text on a small item.


6. Lucida Handwriting: This is a good all rounder and very popular on writing instruments. It is in effect "joined up" writing. Some gaps between names can be small but is acceptable.

7. Tempus. A young font and looks great on frames, it can get lost on smaller items sometimes as it is a very narrow font. We use this on out treasure chests as the wood is soft and it needs a deep engraving.

~ These are called TILDAS. We call them SQUIGS or SQUIGGLES These are very popular around names and can be found on most QWERTY key boards. If you are ordering on line and want them please try and include them with your text. ~ Squigs ~.
New Fonts:
Sparkle - name only

Deluxe

Fairytale

Paradise